Level One: Training Basics
Who Should Take this Course?
Whether your new dog is a puppy, mature dog with some training or even a rescue dog, they are all "a surprise package" The best way to start your new relationship is to invest some time in building a basic bond of trust and good behavior. For the puppy everything is new. For the mature dog this class is a safe and managed environment for you both to get to know each other and find out what training both good and bad your new dog might have. As you move through the basics with an expert's appraisal of your dog or puppy's temperament the class will get general advice and individuals will get specific advice and hands-on help to work through any special issues. You will discover more about your dog's personality and the techniques that will work best for him or her.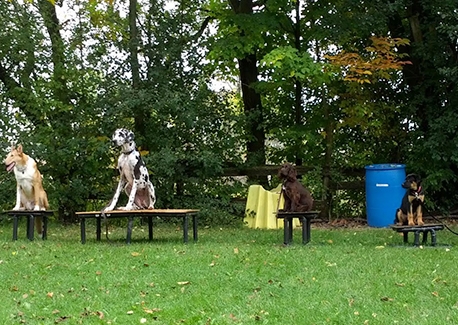 As you advance through the lessons. you learn not just the command but a method of communicating that improves all the time and the discipline of these early lessons set the expectation and style for future communications and learning between you that will mold good-behaviour. It locks in the obedience framework for owning a remarkable dog.
Each class moves at its own pace, and over the class we work on the basics:
Learning good manners
Walk on leash without pulling, Learning the basics of Come, Sit, Down, Heeling Leave it, Wait
Dealing with problem behavior (chewing, housetraining, biting, jumping)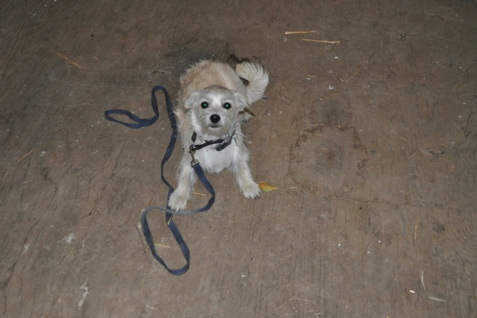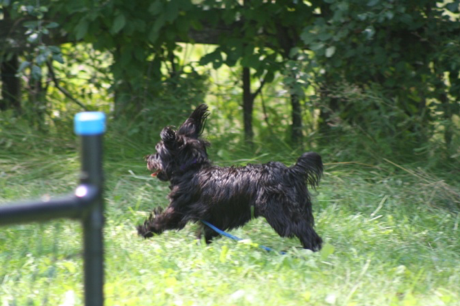 Training for Life
As the basic commands become consistently obeyed, our obedience training will gradually expand into Training for Life. We want to keep the classes interesting but even more important we want to help you build a team/pack bond of confidence in which your dog trusts and expects your leadership through life's many environments and emergencies.
Walking around in a group circle teaches basics but does not prepare you for life. We create different environments that challenge doggy communications and train your dog to trust you in novel situations, and it's fun. Of course, not every dog will be old enough or ready for all situations and we adapt learning suitable to your dog's abilities. Life is unpredictable and this training prepares you both.
The "novel situations" a simply "different" to the dog. They include:
Jumping over low heights
Climbing sitting and staying on different spots and different objects
Going through a six foot box, a simulated "tunnel"
Walking across a raised plank
Of course, not every dog will be old enough or ready for all situations and we adapt learning suitable to your dog's abilities.
Throughout all the classes your dog learns to learn, you are always adding far more words to your joint vocabulary than these basic commands.
Class Guidelines
Please email or call for addition training times or any further information. The lessons are done in the great outdoors when possible; therefore students should dress for weather conditions. If the weather does not permit doing the lessons outside then they will be done inside in the loft of the barn. Group lessons include a maximum of 5 dogs often with 2 instructors.
All dogs are required to have current vaccination and to be in good health.
Dogs with known dog aggression issues will have to be privately assessed to ensure they can safely participate in a group lessons.
Dogs that are people aggressive will not be able to participate in group lessons and will be required to take private lesson(fees may vary depending on the degree of the aggression)
Level One: Training Basics Pricing
Level One: Training Basics 2021 Schedule TBD
Level 1 Class Sign-Up
Training Reviews